RAP-AJ: Solar Energy 太阳守望者(北京)教育科技有限公司

Solar Energy is the Award Recognized Activity Provider for Adventurous Journey (RAP-AJ) 太阳守望者(北京)教育科技有限公司成为爱奖中国推荐奖项服务提供方-户外探索(RAP-AJ)
About Solar Energy - 关于太阳守望者
As a Chinese creative education organization, Solar Energy was founded in 2010. We are focusing on young people outdoor exploration and adventure education. We have conducted over 3000 outdoor exploration activities and more than 30,000 young people have participated in. We believe that our special designed journeys would empower all the young people to achieve their personal best.
For the DofE participants age from 14 to 24, we have designed a variety of projects, climbing, hiking, kayaking, cycling, etc. These challenging journeys can provide the young people opportunities to learn more about the wild world, preserve and overcome barriers, take responsibilities, and ultimately find their purpose, passion and place in the world.
太阳守望者,中国创新教育机构,成立于2010年。专注于青少年户外探索教育,青少年山河冒险项目。以富有挑战的旅程项目为载体,通过皮划艇、单车等工具,让孩子在山河之间去感受自然的魅力,在不断地旅程挑战中挖掘孩子身体的、环境和认知的智慧、从而去培养孩子的自驱力和五大核心能力。
课程围绕探险、徒步、骑行、水域、雪山五大系列展开。通过体验式教育的方式,在个人挑战的基础上不断去挖掘个人的潜能,从而逐渐的参与到社会服务项目中。针对14-24岁的爱奖参与者,设计了符合这个年龄阶段的单日、多日长距离的登山、徒步、远征以及各种海洋项目和社会服务项目,在自然环境中学习新的技能,激发参与者的潜能,支持青年人的发展。
The service content - 服务内容: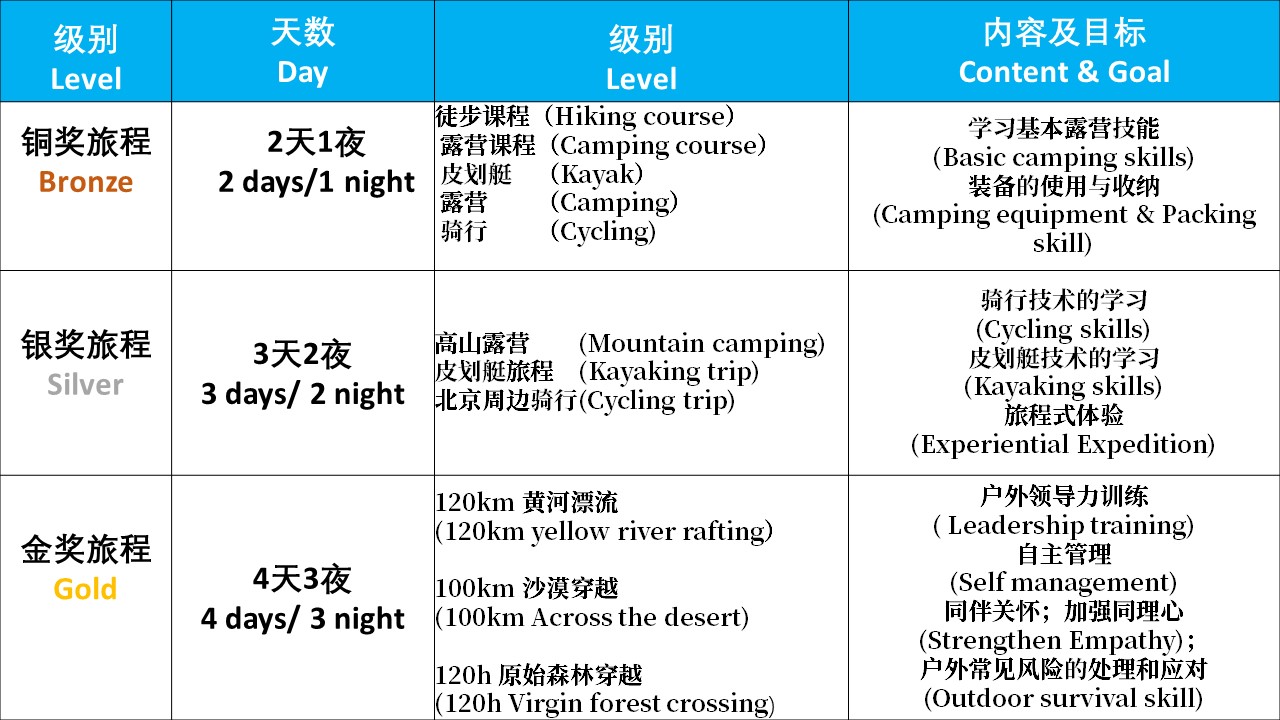 Location Coverage - 服务地点覆盖
Solar Energy has branches in Beijing and Baotao, and our services cover the whole country.

太阳守望者在北京、包头设有分支机构,服务范围覆盖全国。
The list of schools and organization that have cooperated - 曾合作的学校及机构列表
机构服务对接人及联络方法 – Contact person
Contact person : Stone Wei
对接人 : 魏国峰
Phone - 电话:19919881714/18510996296
Email : sun_shitou1@sina.com
Address: 424, Shangpin Tower 3, Haidian District,Beijing
公司地址:北京市海淀区白家疃尚品园3号楼424
Please follow their WeChat to know more the organization details:
WeChat: hikingcamp
---
Updated: 2021.03