Recognized Activity Provider (RAP)
Recognized Activity Provider (RAP) is a single entity who has been recognized by the Duke of Edinburgh's International Award China (DofE China) for their capacity to provide services around specific Award activities for Award Centers (ACs) and Open Award Centers (OACs).There are five RAP certificates available in accordance with our five Award activities, including Voluntary Service (RAP-VS), Skills (RAP-S), Physical Recreation (RAP-PR), Adventurous Journey (RAP-AJ) and Gold Residential Project (RAP-GRP).
What organizations qualify as a RAP?
AC is usually becoming a RAP means that you will join the global Award family for the purpose of facilitating youth development, and together shoulders the responsibility of disseminating and upholding the Award values and brand reputation. Applying to be a RAP in mainland China is at the discretion of DofE China.
The requirements are:
* A legal entity with reputable regional or national business impact;
* Provides the service that are closely related to the Award sections to the young people;
* Adequate resources for Award facilitation, including activity experience, qualified personnel, solid internal policies and trainings, etc.
What are the relationships between a RAP, an AC/OAC and DofE China?
RAP's addition to the Award family is to provide Award service to ACs/OACs, therefore it's important for all parties to acknowledge their respective responsibilities and obligations.
As the Award authority in China, DofE China issues AC/OAC License and RAP Certificate.
* DofE China ensures ACs/OACs are up to standards throughout their licensee period.
* DofE China ensures RAPs are suitable to facilitate the Award delivery for ACs/OACs.
* ACs/OACs are operational platforms for Award delivery.
* ACs/OACs are responsible for their checking and choosing RAP services.
* ACs/OACs take ownership and ultimate responsibility for their participants.
RAPs are service providers for ACs/OACs.
* RAPs and ACs/OACs are exclusively responsible for the service agreement between them.
* RAPs' quality monitoring is based on ACs/OACs' service feedback and DofE China compliance review.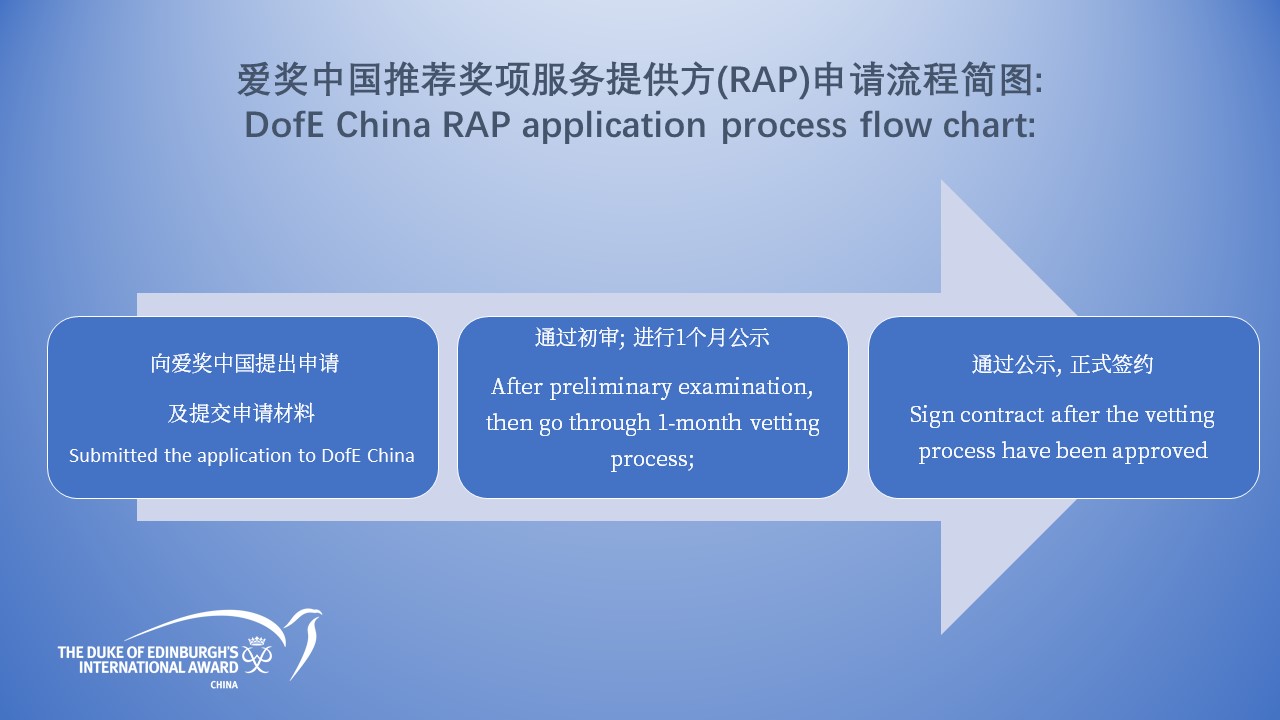 Contact operations@intawardchina.cn for more information regarding how to apply for Recognized Activity Provider Certificates
---
Award Recognized Activity Provider (RAP) List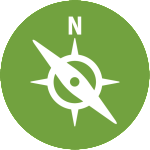 RAP-AJ - Adventure Journey provider list:
Beijing - Leadclimb 领攀 (北京)
Beijing - Solar Energy, 太阳守望者(北京)

Guangxi - Insight Adventures 鹰赛探险 (广西)
Shenzhen - Peaks 高峰 (深圳)
Shanghai - Shanghai TDCQ. 上海天道酬勤 (上海)
Zhe Jiang - Discovery Adventures Moganshan Park 浙江穿越川行 (浙江)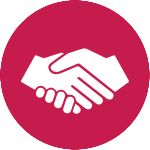 RAP- VS - Voluntary Service provider list
Dalian - Dalian Mother's Education - Youth Leadership Development program 大连母亲教育 (大连)

Shanghai - Shanghai SGQN 上海徐汇区三果青年 (上海)
---
Update: 2021.01